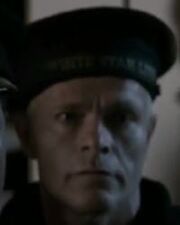 Sándor Boros is a Hungarian stuntman.
In 2012 Miniseries
Edit
Sándor Boros plays a Sailor who loads passengers into Lifeboat #15 including members of the Maloney family. His character dies in the sinking, since he is last seen (along with Gábor Salinger and László Szili) trying to right collapsible B before being washed off the Titanic as the boat deck drives under water.
Sándor said he was given a name to his character. Unfortunately, he couldn't remember what the Seaman's name was.
Ad blocker interference detected!
Wikia is a free-to-use site that makes money from advertising. We have a modified experience for viewers using ad blockers

Wikia is not accessible if you've made further modifications. Remove the custom ad blocker rule(s) and the page will load as expected.