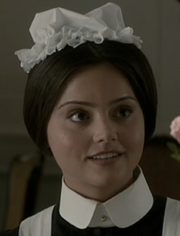 Annie Desmond
is a fictional character of the
2012 Miniseries Titanic
. She is a beautiful stewardess who works on the
Titanic
.
Episode 1
Edit
Annie Desmond is first seen when the Sandini's find her. She tells them where to go. Paolo Sandrini keeps staring at her, and his brother Mario has to pull him with.
Next, she goes to the Maid's & valet's pantry to get everyone taking their seats.
After dinner, she walks through several corridors, asking passengers for service. The Batleys accept it and she helps Muriel with taking off her necklace.
Ad blocker interference detected!
Wikia is a free-to-use site that makes money from advertising. We have a modified experience for viewers using ad blockers

Wikia is not accessible if you've made further modifications. Remove the custom ad blocker rule(s) and the page will load as expected.